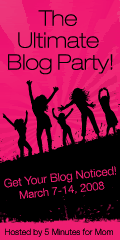 hello party people! my name is amy and welcome to my blog.
i don't have too many pictures, but my family is off to the right of your screen.
here are a few little facts about me...
1) for some reason i like to post in all lower case. i don't know why, but i am thinking laziness may play some part.
2) i am 29 years old, but i turn the big
3-0
in july.
3) i am a stay at home mom of 5 kids.
4) i have been married to my hubby for almost 11 years.
5) i babysit lots of kids.
6) i live by family, in fact, my husband's parents, 2 sisters, and 2 brothers live on our street. not to mention the 2 nieces and 2 nephews.
7) i am the oldest of 3...and the age difference between me and my youngest sib is 2 years and 8 mos.
8) i am allergic to cherries, montreal seasoning, and cocoa butter. oh yeah, and stress. it makes me break out in a rash if i get too stressed out.
9) i am the very proud owner of a 12 passenger van. i love this car. funny, i didn't learn how to drive until i was 18, and was scared to drive anything bigger than a geo prism.
10) i am not sure what else to say about me. but i didn't want to end it on a list of 9!
major players in my life are
jeff-my husband and father of our 5 kids. i met him the summer between my junior and senior years of highschool. i was 16, but he thought i was older (he was 19).
alex-my oldest son/child. he's 11 and thinks he's 20. he's a smart kid, and athletic too.
haley-my second oldest but oldest girl. she just turned 9 and is beautiful, smart, and athletic.
grace-middle child, and youngest girl. she just turned 6, and is the same as her sister...except she has blue eyes and her sister has hazel.
josh-boy number 2. he's smart, handsome and built like a linebacker. he just turned 4.
zack-the youngest, boy number 3. he's the only one that looks like my side of the family. he'll be 3 in july, and is potty trained, and has the vocab of a 6 year old.
i have been blessed with very smart, healthy and athletic children. they are really great kids, and i'm not just saying that because they're mine.
thanks for stopping by! leave a comment if you have time. i'd love to hear from you!